Slim PM (Black Raspberry) – Formulated To Help Stimulate The Production Of Anti-aging Mechanisms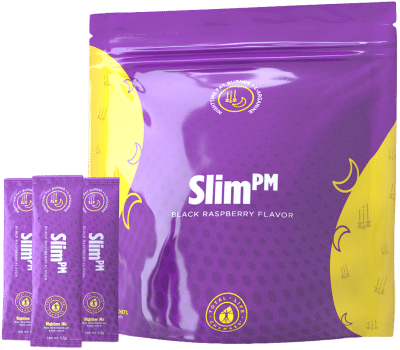 Complete your day with our three-benefit diet supplement

Slim PM synergistically utilizes a combination of anti-oxidant components and L-Arginine to target cardiovascular health and endothelial cell cleansing.
More About Slim PM
Our formula is designed to assist in Leptin control. In turn, this may assist in burning fat while you sleep. Every ingredient is carefully integrated to provide the maximum level of supplement benefits.
One canister provides 190g of Slim PM.
Why Slim PM?
Our formula includes powerful antioxidants that may assist in free radical scavenging and enhance cell repair. Slim PM is also designed to improve the health integrity of endothelial cells that can become clogged with contaminates.
Key ingredients
L-Arginine:
This amino acid is a "building block" of protein. It stimulates the release of human growth hormones and insulin. L-Arginine also promotes the stimulation of nitric oxide which helps to support blood flow, vascular functions, and intramuscular circulation.
Curcumin:
This is a free radical "scavenger" and similar in nature to fish oil. It increases nitric oxide levels within the body and is a powerful anti-inflammatory agent. Nitric oxide can increase blood flow by relaxing blood vessels.
Athletic benefits:
L-arginine is known to stimulate the release of growth hormone, insulin, and other substances in the body. This, in turn, can promote strength and endurance when used as part of regular and sustained physical exercise routine.
Powerful Antioxidants To Promotes Cardiovascular Health
Improves Cardiovascular Wellness
These statements have not been evaluated by the Food and Drug Administration.
These products are not intended to diagnose, treat, cure, or prevent any disease.